FALL 2016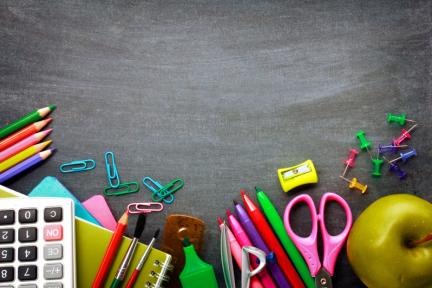 Back to School
Dear teachers,
Our team whishes you the best for the beginning of this new school year.
This newsletter presents you with information about workshops, ressources and opportunities for teachers of French in the Southwest. For an overview of French education across the United States, subscribe to the new newsletter from the French Embassy in the U.S.! Just 1 email every 2 months to keep you updated with events, advocacy, honorable mentions, and teaching resources for your K-12 French classroom.
For updates on French language and education in the Southwest, follow us on Facebook. You can also contact us for any inquiries!
NEWS
Welcome to Our New French Language Officer

Anaïs Lintow holds a degree in sociology from the university of Umeå (Sweden), a BA in French as a foreign language from the University of Nancy as well as a Master's degree in cultural management from the University of Burgundy.

She has taught in many different places and to many demographics, ranging from students of elementary and secondary schools in Scotland and Nepal, to adults at the Alliance Française of Vanuatu. Before joining us, she directed the Alliance Française of Ambositra (Madagascar) for two years. Recently, she completed a Master degree specializing in Information and Communication Technologies (ICT) for education at the University of La Réunion.

Anaïs is joining us as well as the USC Francophone Research and Resource Center and the French immersion program at Richland Avenue School in Los Angeles

Don't hesitate to contact her if you need any information regarding ressources or want to organize events and workshops or simply want to promote French in your school.
France Alumni USA is a platform and network of professionals who have completed part or all of their studies in France and live in the US.
This platform, set up and run by Campus France, connects an international community of more than 28,000 alumni from around the world with new members joining daily !

READ MORE
FREE WORKSHOPS
The Alliance française of Greater Phoenix, in partnership with the Cultural Services of the French Embassy in Los Angeles is organizing a free workshop for teachers of French presented by GUY VANDENBROUCKE, teacher of French and presenter for teacher workshops.

Title: How to conciliate a task-based approach and the use of school-assigned textbooks?
Where: Alliance Française of Greater Phoenix
14415 N 73rd St, Scottsdale, AZ 85260
When: October 8th, 2016

This workshop will focus on how to build contextualized activities that address all languages skills (listening, reading, speaking and writing). After a short description of the task-based approach, participants will examine sample activities appropriate to all levels (from level 1 to AP / from A1 to B2).
Using these model units as a reference and web-based resources as tools, they will break in groups to select and create language activities. Time allowing, they will also devise effective methods of assessment to determine proficiency levels.
After a quick survey of tools available for free on the web as well as examples of activities conceived with those tools, participants will learn to frame lesson plans and share ideas about teaching techniques.

Guy Vandenbroucke is a seasoned educator with more than 30 years of experience in the teaching of French as a foreign language. He has presented workshops at BELC events (France), FIPF Annual Meetings (Switzerland), ACTFL conferences (Belgium) and CAIS Regional meetings (California). He was a member of the National Committee about Bilingual High School Curriculum and Baccalaureate organization, Ministry of Education, Budapest, Hungary.
Guy is currently a teacher at the Crossroads School for Arts and Science (Santa Monica).

READ MORE
The publisher CLE International (specialized in Rrench as a foregn language), is coming to Los Angeles to provide a free training for teachers of French.

When : Friday, November 20th from 1:00PM to 5:00PM

Where : Alliance Française of Los Angeles

Presenters : Laura Patuano, in charge of pedagogy at CLE, and Jacques Pécheur, who has promoted French around the world within governmental and international institutions.

Objective : This "Café pédagogique" will focus on the student learning process with a conference: « L'Apprenant consommateur et acteur de son apprentissage » and two workshops about Differentiated Instruction « Gérer la diversité en classe avec des outils de pédagogie différenciée » and Task Based Approach «Apprendre et enseigner les langues dans la perspective actionnelle : construire un Projet » and « Gérer la diversité en classe avec des outils de pédagogie différenciée »

Click here to register

READ MORE
Title: Differentiated Instruction: Strategies for Effective Teaching in Mixed-Ability cCasses

Presenter: Pierre-Yves ROUX, in charge of expertise and projects at CIEP (Centre international d'études pédagogiques)

Duration: 6 hours (8:00AM - 4:15PM)

When: November 19th

Where: Leavey Library - Room 16

Objective: To recognize heterogeneity in the classroom and identify its factors in order to develop differentiated instruction (ID) strategies.

Questions that will be answered:
- Why differentiate ?
- At which point do you start differentiating ?
- What to differentiate ?
- How to differentiate ?
- How to manage your class ?
- What are the conditions for an effective differentiation ?

Organization : The presenter will highlight practical aspects of differentiated instruction and will switch between presentations and group work.

READ MORE
NEW FRENCH IMMERSION PROGRAMS
Arizona opened its first public education French immersion program at Desert Sun Academy in August 2016, for kindergarten and 1st grade.

Cave Creek School District is a leader in World Language and Immersion Program Development. The award-winning PK-12 grade World Language Program encompass all seven schools in the district. With a successful Spanish and Chinese Immersion program in place, they are proud to continue the same 50% English/50% target language model at DSA with French Immersion. This will be the first French Immersion program in AZ offered in a public school setting!

Principal Dr. Micah Korb on the new program here
Program Coordinator, Cristina Ladas on the new program here

READ MORE
The Frank D. Parent TK-8 World Language School will launch a New French immersion program in 2017. The French Dual-Language Immersion Program as a "school choice" option at Frank D. Parent allows children to learn in research-driven, innovative and effective ways by immersing them in two languages and cultures.

Immersion in French and English from TK through 8th grade gives children the opportunity to learn a second language the same way we learn our native language—by living it.

Visit their website here.

READ MORE
EVENTS
Albertine, the only French-language bookshop in the US is parntering with local independent libraries to showcase an inaugural selection of books encompassing a wide range of literary genres. Be sure to check out your local "French Corner" or website of Albertine for your books in French!

Tattered Cover Book Store - 2526 E Colfax Ave, Denver, CO 80206

Book Soup - 8818 Sunset Blvd, West Hollywood, CA 90069

READ MORE
If you want to keep up to date on all things French or Francophone, subscribe to our cultural newsletter which is a great ressource for your classes.

READ MORE
PARTNERSHIPS
As the school year begins, don't forget that the cultural services of the French Embassy can help you establish a partnership with a school in France. Find out more here!

READ MORE
The Teaching Assistant Program in France (TAPIF )offers you the opportunity to work in France for 7 months, teaching English to French students of all ages. Each year, over 1,100 American citizens and permanent residents teach in public schools across all regions of metropolitan France and in the overseas departments of French such as Guiana, Guadeloupe, Martinique and Réunion.

Are you ready to expand your cultural horizons and share your language and culture with French students? Registration here!

READ MORE
RESOURCES
Innovate and use the MOOC "Cours de FLE A2" developed by the Alliance Française of Paris - Ile de France in your class!

The objective : Offer students, who have already studied 80 to 100 hours of French as a foreign language and who want to renew and deepen their knowledge of French, a free 7 week course.

We invite you as a teacher to :
- Live a learning digital experience
- Discover activities that enable students to be autonomous
- Analyze situations, and peer review models and other specifications of online self learning
- Learn of the benefits of MOOC and incorporate them into classroom learning
- Be part of a network of teachers who want to experiment with a new tool

The Alliance Française of Paris Ile de France also offers an activities booklet that you can use in class in addition to the MOOC.

When :
Start of classes: October 31st
End of classes: December 18th
Registration starts: September 15th
End of registration: November 15th

Register yourself and your students on the FUN platform or contact Cora Beck in charge of digital pedagogy for the activities booklet!

READ MORE
Linguo TV is a mine for those who want to improve their French language skills while listening to authentic French videos. Dozens of videos are added each week with transcriptions and the recommended comprehension level (A2 to C2). You can register online and choose your favorite themes as well as how often you'd like to receive email updates.

This is a great way to progress in French along with being updated with the latest news! The website is regularly updated with new features.

READ MORE
JOB OFFERS
Subheadline

Etablissement préscolaire cherche Enseignant et Aide-Enseignant français - Été/ Automne 2016

Si le français est votre langue maternelle, que vous êtes plein(e) d'énergie et d'idées concernant l'éducation des jeunes enfants (age 2-5 ans), et que vous voulez partager votre passion de la langue et culture française contactez Language Garden Preschool

Si vous êtes intéressé(e), veuillez envoyer une courte lettre de motivation ainsi qu'une copie de votre CV.

READ MORE
Alliance Francaise de Los Angeles is interviewing for the position of French Education Director. Qualified candidates must possess :

- Current valid US Work Visa,

- FLE Certification

- Fluent in French and English with minimum 5 years administrative experience.

Applicants may submit resume and letter of interest to admin@afdela.org

READ MORE