SEPTEMBER 2017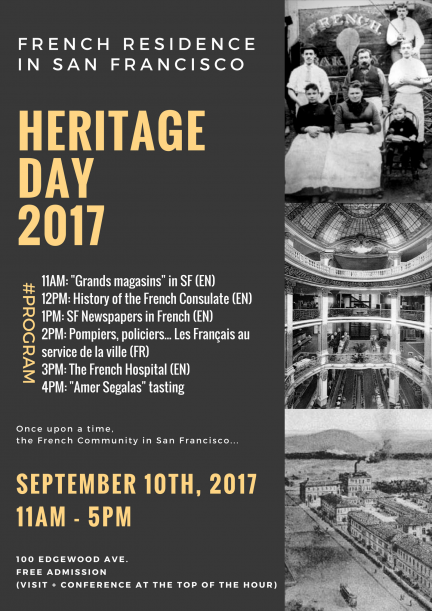 September 10, 2017
San Francisco, CA.
On the occasion of Heritage Day, learn more about the history of the French community in San Francisco and visit the French Residence!
READ MORE
VISUAL & PERFORMING ARTS
September 7, 2017 - September 17, 2017
Portland, OR.

PICA's Time-Based Art Festival activates the city of Portland, Oregon, with contemporary art projects that bring artists and audiences together, creating a vibrant community through live performances, music, screenings, workshops, talks, and visual art installations. Performances by French artists Bouchra Ouizguen and Dorothée Munyaneza.

READ MORE
September 12, 2017 - October 8, 2017
San Francisco, CA.

Christopher Wheeldon brings the magic and romance of Paris into perfect harmony with unforgettable songs from George and Ira Gershwin in the show that earned more awards than any other musical in the 2015 season!

READ MORE
September 22, 2017
San Francisco, CA.

Young and proud Ouroz takes part in Afghanistan's most important tournament, the King's Bouzkachi. But Ouroz fails, falls from the horse and breaks his leg.

READ MORE
Ongoing - September 24, 2017
San Francisco, CA.

The exhibition focuses on the intersection between the historical context of the Parisian millinery trade and the contemporaneous, avant-garde art of Degas and the Impressionists.

READ MORE
BOOKS & IDEAS
October 2017
San Francisco, CA.

The Cultural Services of the French Embassy in the United States are happy to announce that Dominique Fabre has been chosen as the new laureate of "A Room with a View", a writing residency launched earlier this year in San Francisco.

READ MORE
September 26, 2017
San Francisco, CA.

Yanick Lahens will be in San Francisco to celebrate the upcoming publication in the U.S. of her novel "Moonbath".

READ MORE
CINEMA
September 28, 2017 - October 6, 2017

SIFF's mini-festival returns to give you a front-row seat to the latest in French language cinema from around the world, featuring legendary directors like Cédric Klapisch.

READ MORE
September 5, 2017

Insightful and optimistic environmental documentary "Tomorrow", by Cyril Dion and Mélanie Laurent, will be available on all major platforms on September 5.

READ MORE
IN THIS ISSUE
Stay tuned!
Follow us on social media!