OCTOBRE 2017
''L'automne est un andante mélancolique et gracieux qui prépare admirablement le solennel adagio de l'hiver''. George Sand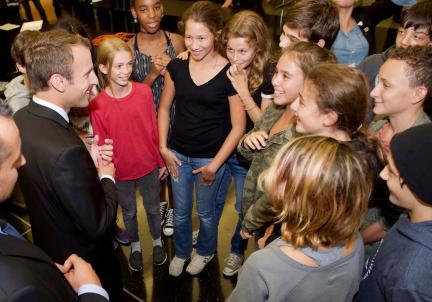 Under the high auspices of President Emmanuel Macron of the Republic of France, the Cultural Services of the French Embassy and FACE Foundation inaugurated the French Dual Language Fund on September 20, 2017 at an event co-hosted by The Graduate Center of the City University of New York.
The Cultural Services of the French Embassy is dedicated to making high-quality bilingual education accessible to students of all backgrounds across the US. Thanks to the generous support of our donors, the French Dual Language Fund will support the expansion of bilingual education through pedagogical projects in 200 public schools and by allocating scholarships for 120 future teachers and funding 75 interns from France.
You can find a video and photos of the event here. You can also listen to President Macron's speech in French here or in English here or read a transcript of the speech in French here.
TO LEARN MORE AND SUPPORT THE FRENCH DUAL LANGUAGE FUND CLICK HERE

October 20-21, Wellesley College 106 Central St, Wellesley, MA 02481
This October, the Suzy Newhouse Center for Humanities at Wellesley College, the Consulate General of France in Boston and Sciences Po Paris will organize an International Symposium on Education and Gender Equality at Wellesley College.
The Symposium is free of charge and open to all; please register in advance in order to attend.
You can find the complete updated program by clicking here.
You will have the opportunity to hear, among others, the former French Ministers Christiane Taubira and Najat Vallaud-Belkacem, the famous writer and feminist activist Angela Davis, and the great Indian-American filmmaker and film Producer Mira Nair.
Do not hesitate to contact us for more information, and please remember to register here to attend!
HTTPS://EDUCATIONANDGENDEREQUALITY.COM/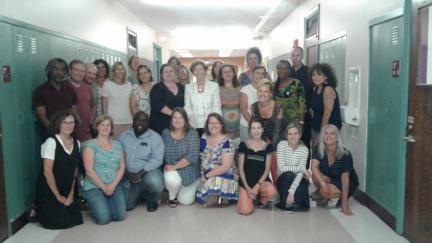 Formation TV5 Monde, un succès !
A free online educational program that has so much to offer to your class!
Thank you to the 29 participants who came to the TV5 Monde special training in Boston on August 25th! Led by Catherine Moss, an affiliated trainer, the class gathered at Boston University. Over the course of a long day, everyone learned how to use the precious FLE tools created by the worldwide chanel.
A special thank you to Catherine Moss, TV5 Monde, Boston University French department team and the AATF Eastern Mass for their partership.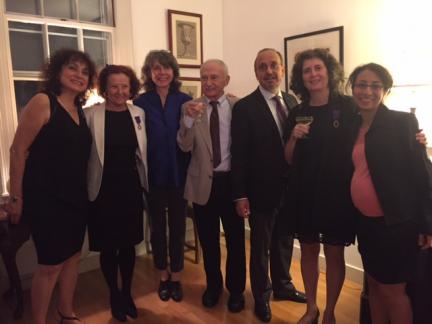 Palmes Académiques News
Left to right : Mireille Malouf, Martine Fisher, Magali Boutiot, David Ball, Valéry Freland, Ourida Mostefai and Latifa Bentiri
On September 6th, Valery Freland, Consul general was delighted to honor a few distinguished New England residents with the French Palmes Academiques at the Residence of France in Cambridge.
Congratulations to Ourida Mostefai from Brown University, Officier, Mireille Malouf from Franklin Charter School, Chevalier, Martine Fisher from Milton School district, Chevalier, and David Ball from Smith College, Chevalier.
CONVENTIONS
October 14, 2017
Providence Career and Technical Academy (PCTA)
41 Fricker St, Providence

"Making an IMPACT with Languages"

This year's focus is how world language educators and educational professionals can guide students in taking their language skills from the classroom, to their community, and into a career.

For more information and to register, please go to: www.rifla.org

READ MORE
MaFLA 50th Fall Conference

October 26-28, 2017
Sheraton Monarch Place Hotel, Springfield, MA

"Languages Transform Individuals into Communities".

Workshops about French language and culture are the following:

- Thursday, October 26, 2017 9:00am – 3:00pm: "The Fluidity of the French Identity: Past-Present-Future", presented by Julien Suaudeau from Bryn Mawr College

- Friday, October 27, 2017 8:00am – 11:00am: "Images of children and adolescents in contemporary Francophone films", presented by Nathalie DeGroult from Siena College

- Saturday, October 28, 2017 11:30am – 12:45pm: "AATF Presents Rediscovering the 'French Review' ", presented by Nathalie DeGroult from Siena College

For the complete list of the presenters, click here.

To download the program and get more information, click here.
NHAWLT 50th Anniversary Conference

November 10-11, 2017
Radisson Hotel, 700 Elm St, Manchester, NH

This November, the New Hampshire Association of World Language Teachers (NHAWLT) organizes a Conference for its 50th Anniversary.

The Keynote Speaker will be Ted Zarrow (ACTFL 2016 National Language Teacher of the Year).

More information on this page.
FOR YOUR CLASS AND YOUR STUDENTS
Arrivée de IF Profs aux États-Unis !

IF profs, réseau social des professionnels de l'éducation francophone, est disponible depuis le mois de juillet pour les États-Unis. Ce réseau se concentre sur le partage de ressources pédagogiques et d'informations professionnelles.


Les objectifs principaux de ce site sont :
- Fédérer la communauté des professionnels de l'enseignement du français aux États-Unis,
- Partager des ressources pour l'enseignement du français à différents publics,
- Vulgariser la recherche en didactique des langues,
- Informer sur les carrières et le cadre législatif des métiers de l'enseignement (credentials, visas, déontologie),
- Diffuser des offres d'emploi et de formation.

A ce jour, IF profs compte 36 sites pays et près de 7500 membres. Pour les rejoindre et avoir plus d'informations, veuillez cliquer sur ce lien.

Une vidéo de présentation d'IF Profs est disponible sur cette page.
Tous les mois, le CIEP (Centre International d'Etudes Pédagogiques) présente dans son infolettre les derniers produits documentaires et actualités du Centre de ressources et d'ingénierie documentaire (CRID). Une mine d'informations pour les enseignants FLE en quête de ressources pédagogiques !

READ MORE
IN THE REGION
LEARN FRENCH IN NEW ENGLAND

French is alive in Regional Alliances Françaises Chapters and other institutions; take a look!

In Boston, follow the French Cultural Center, which offers classes for adults, adolescents and kids
Register for a French exam DELF or DALF. Access over 29,000 books, CDs, DVDs and magazines suitable for all ages and levels of French at the FCC Library!

In Providence, RI, follow the Alliance Française of Providence which offers classes for all.

In Newport, RI, follow the Alliance Française of Newport which has started offering new classes this year.

In Burlington, VT, follow the Alliance Française of the Lake Champlain which offers classes for all.

In Manchester, NH, the Franco-American Center offers classes for all!

and ...

Look for other local schools and institutions that offer French classes!
SCHOOL PAIRINGS
Vous enseignez le français à l'école primaire, au collège ou au lycée ? Vous avez toujours voulu trouver des correspondants français pour vos étudiants ? N'attendez plus !
La première étape est de remplir le formulaire de partenariat et de l'envoyer à cette adresse. Cliquez ici pour en savoir plus.

READ MORE
IN THIS ISSUE
HELPFUL LINKS
....................................