NOVEMBER 2016
We wish you all a Happy Thanksgiving with your family and your friends!
2017 Trends and Supports
The success of dual language education in the United States reflects the fact that bilingualism is a priority for more and more families. The benefits of bilingual education are widely recognized. Beyond open-mindedness and superior cognitive and intellectual agility, bilingualism lends competencies that enhance the student's attractiveness when applying to universities, and later supports their advancement in an increasingly international job market.
Download the report (.PDF file)
Today, you can take part in the development of bilingual classes and programs in your city, state and community. In supporting the FACE foundation you will support a dual language education for your children and students (Make sure to mention for which New England state you are willing to donate for).
To donate, please click here.
READ MORE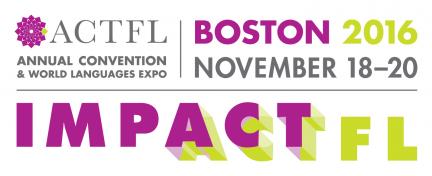 November 18-20, 2016
The ACTFL Annual Convention and World Languages Expo is an international event bringing together more than 6,000 language educators from all languages, levels, and assignments.
How do I find a French workshop, conference or event?
C'est facile ! Click here. Then, under TEXT SEARCH, type "French," or under APPLICABLE LANGUAGE, select "French" and click search.
ALSO, JOIN US ON NOVEMBER 19th @ 7pm for French and Fun with Brice Kapel!
The New England AATF chapters and the Cultural Service of the French Consulate in Boston invite all French educators of New England to a friendly and free reception at the Westin Hotel Ballroom. Our special guest JoAnn Hammadou, professor at the University of Rhode Island will say a few words regarding the new online program for bilingual educators launched on September 2016. Brice Kapel will entertain us with poetry and music !
And... don't forget to stop by the French Embassy booth #918, to say... Bonjour!
READ MORE
RESOURCES
Deadline: January 15, 2017

Are you ready to expand your cultural horizons and share your language and culture with French students?

The Teaching Assistant Program in France offers you the opportunity to work in France for 7 months, teaching English to French students of all ages. Each year, over 1,100 American citizens and permanent residents teach in public schools across all regions of metropolitan France and in the overseas departments of French such as Guiana, Guadeloupe, Martinique and Réunion.

READ MORE
A FREE communication kit

The Institut Français (IF) campaign takes a modern perspective on French and those who speak it, presenting French as a language of employment, innovation, technology, and business around the world. To get your free communication kit, Et en plus, je parle français! from the Institut Français, please contact Leah.Miller@diplomatie.gouv.fr and start promoting French language learning on your campus today!

READ MORE
School Pairings

Give to your school a new way to share a language. Cross the Atlantic with your students!

As the school year begins, don't forget that the cultural services of the French Embassy can help you establish a partnership with a school in France. Find out more here!
TEACHER WORKSHOP
Deadline to register: November 10
Éducation aux médias: décrypter l'information avec TV5MONDE @ The French Cultural Center

Cette formation s'adresse à des professeurs de français langue étrangère enseignant à des adolescents ou des adultes de niveau B1 à C1 et souhaitant guider leurs élèves dans la compréhension et l'utilisation des médias.

READ MORE
AT THE FRENCH CULTURAL CENTER
Deadline: December 15, 2016

The FCC/Alliance Française of Boston is pleased to offer four grants of up to $400 each for middle school teachers of French to support projects that promote learning French and bring excitement to a school's French program. All project proposals will be considered.

READ MORE
Saturday, November 5, 2016
From 9:30am to 4:00pm

Calling all bookworms and rats de bibliothèque: peruse hundreds of new and gently used books in French, with prices starting at just $1. The sale will include fiction, non-fiction, graphic novels and bandes dessinées, DVDs, dictionaries, and language learning materials for readers of all ages.

READ MORE
IN THIS ISSUE
HELPFUL LINKS
....................................