SUMMER 2017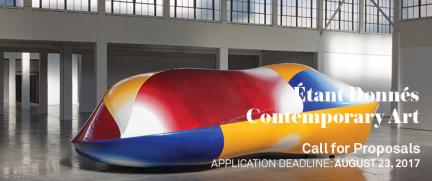 DEADLINE: AUGUST 23
You have until August 23rd to respond to the Etant Donnés Contemporary Art Call for Proposals.
The program aims to strengthen ties between France and the U.S. in the field of contemporary art by encouraging partnerships between French visual artists, curators and collectives, and American curators and cultural institutions. It supports ambitious projects, with priority given to coproductions, new commissions, and projects that can be developed across several cities in the U.S. Since its inception, Étant donnés has developed an international reputation by allocating over $3 million to fund more than 300 projects and 16 curators.
READ MORE
VISUAL ARTS
Artist in Residence: Benjamin Grivot

DALLAS, TX | JULY 22 - SEPTEMBER 5

French visual artist Benjamin Grivot, from the École Nationale Supérieure d'Art de Dijon, will be in residence at Southern Methodist University in Dallas from July 22 to September 5. His exhibition will start on August 22, with an opening reception to be held on August 26 at Liliana Bloch Gallery.
BOOKS & AUTHORS
HOUSTON, TX | JULY 2 | 12 - 2 PM

This year marks the 114th year of the historic Tour de France race.

Join Brazos Bookstore in celebrating the start of the race on Sunday, July 2nd, with quiches, wine, books on the history of the Tour as well as French language books on sale.

READ MORE
MUSIC
ROUND TOP, TX | JULY 1 | 1:30 PM

French pianist François Dumont will present a piano recital honoring Maurice Ravel, at Edythe Bates Old Chapel on July 1st, in the framework of the Round Top Festival.

READ MORE
CINEMA
OKLAHOMA CITY, OK | JULY 6 - 27

Oklahoma City Museum of Art is presenting a month-long showcase of the best of classical and contemporary French cinema. This year's program features an original retrospective of newly restored masterworks by French New Wave filmmaker, Jacques Demy, and a hand-curated festival of new French films:

Lola, by Jacques Demy - July 6
The Umbrellas of Cherbourg, by Jacques Demy - July 13
After Love, by Joachim Lafosse - July 14
Moka, by Frédéric Mermoud - July 14
A Kid, by Philippe Lioret - July 15
Nocturama, by Bertrand Bonello - July 15
The Country Doctor, by Thomas Lilti - July 16
Slack Bay, by Bruno Dumont - July 16
The Young Girls of Rochefort, by Jacques Demy - July 20
Une chambre en ville, by Jacques Demy - July 27

READ MORE
STREAMING
JULY 2017

Curated streaming platform MUBI announced its July release slate, which will feature a selection of French films including: Les Amoureux by Catherine Corsini, Les Cousins and Le Beau Serge by Claude Chabrol, The Revolution isn't a Gala by Youri Tchao-Débats, or The Republic of Enchanters by Fanny Liatard and Jérémy Trouilh.

MUBI's curators present a new hand-picked film each day and each one is available to stream for 30 days.

READ MORE
COMMUNITY EVENTS
IN THIS ISSUE
Cultural Service of the French Embassy
Consulate General of France
777 Post Oak Blvd
Suite 600
Houston, TX 77056