APRIL 2016
The agenda for all things French in the US Southeast.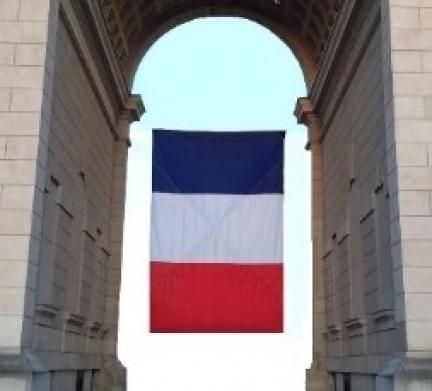 Millennium Gate Museum | Atlanta, GA | April 13, 2016
The Lafayette Debates is an academic series initiated by the French Embassy in the United States, in partnership with The George Washington University aimed at fostering intercultural understanding by means of public debates on global issues. This year, the 2nd edition of the Atlanta chapter will be held on April 13 at the Millennium Gate Museum.
READ MORE
CINEMA
Emory University | Atlanta GA | April 6, 2016

Selected to close the 2015 Cannes FIlm Festival, "Ice & the Sky" is a French documentary film following Claude Lorius, who began studying Antarctic ice in 1957 and was the first scientist to be concerned about global warming.

READ MORE
MUSC Basic Science Bldg Audit. | Charleston, SC | April 8, 2016


The Alliance française of Charleston Ciné-Club meets every month for a French movie night at the MUSC Basic Science Building Auditorium in Charleston, SC.

READ MORE
UNC Charlotte | Charlotte, NC | Until April 9, 2016

Experience the rich world of contemporary films from France and other countries at the 2016 International Film Festival hosted by UNC Charlotte Department of Languages and Culture Studies and the university's various languages organizations.

READ MORE
Sarratt Cinema | Nashville, TN | April 12, 2016

Vanderbilt University's International Lens Series uses film screenings as a forum to promote conversation and a global perspective. This Spring, four French films will be screened at Sarratt Cinema.

READ MORE
Emory University | Atlanta, GA | Until April 20, 2016

European cinema fans are in for a treat as classic films from France make their way to Atlanta at the Emory Cinematheque! (Re)discover some of France's most beloved classics here at home!

READ MORE
VISUAL ARTS
North Carolina Museum of Art | Raleigh, NC | Feb. 4 to May 19, 2016

Popular NCMA lecturer and art educator Joseph Covington covers 5,000 years of art history, "From Pyramids to Pixels," as reflected in our permanent collection. Topics include the great masters, African art, the Islamic world, photography, and new media.

READ MORE
Dixon Gallery and Gardenc | Memphis, TN | April 24 - July 17, 2016


The Dixon Gallery and Gardens - a fine art museum distinguished by its diverse programs - celebrate 40 years of French art with "The Impressionist Revolution", a special exhibition with paintings from its very own permanent collection.

READ MORE
MUSIC
Atlanta Symphony Hall & Kennesaw State University | Atlanta, GA | March 31 to April 2, 2016



Celebrated Pianist Alexandre Tharaud performs Ravel's Concerto in D Major, a remarkable synthesis of classical and jazz elements, at Atlanta Symphony Hall and Kennesaw State University from March 31 to April 2, 2016.

READ MORE
Playhouse on the Square | Memphis, TN | April 2 & 9, 2016

The 2016 Midtown Opera Festival features two chamber operas, panel discussions and late-night cabarest at Playhouse on the Square in Memphis, TN. Festival highlights include "The Tragedy of Carmen" and "L'Heure espagnole", sung in French.

READ MORE
Playhouse on the Square | Memphis, TN | April 6, 2016

"April in Paris": a Soirée with Memphis-based French Opera Singer Marie-Stéphane Bernard featuring renowned Memphis pianist Angelo Râpan and The Vagabonds on April 6, 2016.

READ MORE
Label Charlotte | Charlotte NC | April 16, 2016


Born and raised in Marseille, Cedric Gervais is one of the most sought-after artists to rock big cities' nightlife. Based in Florida, he will bring the party to Charlotte, NC this April.

READ MORE
Memorial Hall | Chapel Hill, NC | April 20, 2016

An ensemble of singers and instrumentalists specialized in the performance of Baroque music on period instruments, Les Arts Florissants are renowned the world over and will perform at Memorial Hall in Chapel Hill on April 20.

READ MORE
Eddie's Attic | Decatur, GA | April 23, 2016

Contemporary world music guitarist Pierre Bensusan is recognized as one of the most unique and brilliant acoustic guitar veterans in the world music scene today. This April, he will continue his US Tour in the Southeast with a performance in Atlanta, GA.

READ MORE
The Iris | Atlanta, GA | April 30, 2016

French electronic music band Dirtyphonics has been turning heads since 2006 with their unique live act, combining the efficiency of a DJ with the energy of a rock concert.

READ MORE
CONFERENCE
Hilton Atlanta | Atlanta, GA | March 30 - April 3, 2016


The Society for Cinema and Media Studies (SCMS) is the leading scholarly organization dedicated to the scholarly study of film, television, video and new media in the US will hold its annual conference in Atlanta.

READ MORE
Emory University & Marriott Marquis Atlanta | Atlanta, GA | April 7 & 8, 2016

Haitian Film Director Raoul Peck is invited to speak at Emory University and the 2016 African Literature Association Conference (ALA) in Atlanta on April 7 and 8, 2016.

READ MORE
Coastal Georgia Center | Savannah, GA | April 7 & 8, 2016


The 2016 SECCLL - an annual conference which aims to encourage the participation of scholars - will address immigration as examined through the comedy genre to respond and to reshape the immigration "issue."

READ MORE
FESTIVAL
Alliance Française of Atlanta | Atlanta GA | April 19 to 22, 2016

Africa Belle: Héroïnes d'Afrique - Enjoy a weekfull of festive activities for women, entrepreneurs and the entire family with the 6th Annual Africa Belle Festival in Atlanta.

READ MORE