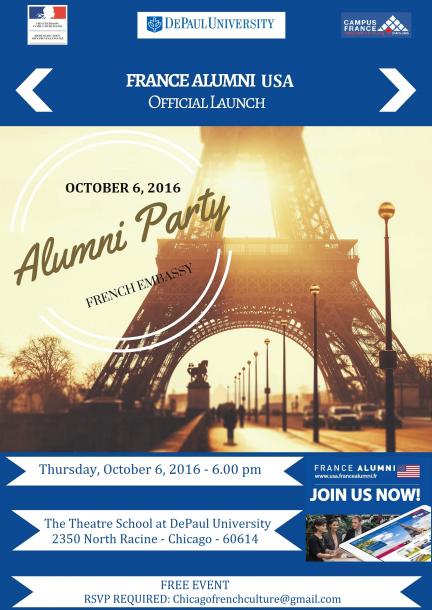 Thursday October 6, 2016 | 6 - 8 pm
The Theatre School - DePaul University
2350 N Racine Ave, Chicago, IL 60614
FEE EVENT - RSVP required
An international platform France Alumni USA is being launched by the French Embassy and Campus France to promote networking among people who has studied, done research or internship in France.

If you have spent a part of your studies in France whether for higher education, short or long study abroad program, research, internship or language courses, we would love for you to be part of this new global France Alumni network. Members have access to job and internship offers, invitation to special events organized for alumni, networking opportunities, and resources to value their experience in France. This is a place to create and explore new opportunities and reconnect with others.

We invite everyone who have studied in France or will be going soon to the Chicago launch party France Alumni USA to locally meet and exchange with peers.
FREE EVENT but RSVP required: Chicagofrenchculture@gmail.com

Come to get back the French Feel!
FOR MORE INFORMATION