APRIL 2017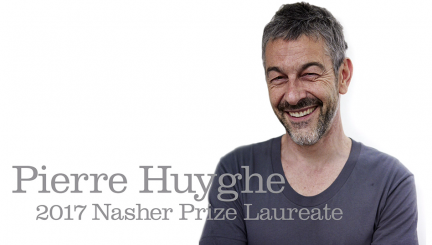 DALLAS, TX | MARCH 31
Join us for a celebration of the 2017 Nasher Prize Laureate Pierre Huyghe in Dallas.
Nasher Prize Dialogues: A Conversation with Pierre Huyghe
Booker T. Washington High School for the Performing and Visual Arts
Lynne Cooke, Senior Curator at the National Gallery of Art in Washington, D.C., speaks with Pierre Huyghe about his artistic philosophy. Watch live.
READ MORE
VISUAL ARTS
MARFA, TX | APRIL 1 | 1:30-4:30PM

Presentation of the new phase of the Fieldwork Marfa project run by the Nantes School of Art with the University of Houston School of Art and Geneva School of Art and Design, and lectures on the work of French artist Fabrice Hyber.

READ MORE
DALLAS, TX | APRIL 1-JULY 1

The exhibition PARIS TEXAS, on view at galerie frank elbaz, takes its cue from key scenes in the celebrated 1984 film Paris, Texas by German avant-garde filmmaker Wim Wenders. It explores the modernist continuing fascination for the open road, with things like deserts, towering concrete overpasses, drive-in banks, billboards, and stripclubs. With works of Francis Alÿs, Davide Balula, Julie Cook, Robert Rauschenberg, Ed Ruscha, Blair Thurman

READ MORE
HOUSTON, TX | APRIL 27 | 7-8 PM

The colorful masks of the Dogon peoples of the Bandiagara region in Mali are globally renowned cultural icons. Curator of collections Paul Davis presents film excerpts of mask dances and speaks with scholars Polly Richards and Isaïe Dougnon on the visual history of Dogon masks and their contemporary significance. Films in French and Dogon with English subtitles.

READ MORE
PERFORMING ARTS
HOUSTON, TX | APRIL 12-15

The Dance Salad Festival includes two choregraphic works by Paris-based major figure of European contemporary dance Carolyn Carlson: Black over Red (My dialogue with Rothko), performed by Paris Opera Ballet Etoile Marie-Agnès Gillot, and Li , performed by Paris-based dancers Chinatsu Kosakatani and Nakata Yutaka.

READ MORE
BOOKS
COLLEGE STATION, TX | APRIL 18-20

French historian and novelist Ivan Jablonka will be visiting Texas A&M University for specific lectures on April 18-20, in the framework of his U.S. tour. He is one of the editors-in-chief of La Vie des idées/Books and Ideas and editorial director with Pierre Rosanvallon of the collection La République des Idées.
His latest book, Laëtitia ou La fin des hommes (Seuil, 2016), was selected for the Renaudot and Goncourt Prizes. It received the 2016 Prix Médicis, the Prix Le Monde as well as the Prix des prix littéraires.

READ MORE
NATIONWIDE | UNTIL APRIL 30

Discover the best of new French fiction and vote for your favorite!

The Albertine Prize is a reader's choice award for contemporary French fiction in English translation. We invite you to discover the 10 shortlisted novels that span the francophone world from France to Mauritius and Morocco and to vote before April 30 at albertine.com. Published by Deep Vellum in Dallas, "Eve Out of Her Ruins" by Ananda Devi is one of the selected novels. The author was invited to Texas last September.

READ MORE
MUSIC
HOUSTON, TX | APRIL 1st | 3:00PM

The Da Camera Young Artists present "Stop, Look and Listen!", a program that is inspired by the interplay of Western and African cultures on display in ReCollecting Dogon., the exhibition currently on view at the Menil Collection.

READ MORE
HOUSTON, TX | APRIL 9 | 3:00PM

A performance of Marcel Dupré's masterpiece for organ Le Chemin de la Croix (The Way of the Cross) combined with readings in English of Paul Claudel's poetry will be offered at Palmer Memorial Episcopal Church, in the framework of the Holy Week.

READ MORE
CINEMA
SUNDANCE CINEMAS | TEXAS | APRIL 2017

A haunting tale of love and reconciliation begins in a small town in Germany in the immediate aftermath of World War I when a young woman mourning the death of her fiancé encounters a mysterious Frenchman laying flowers on her beloved's grave.

READ MORE
AUSTIN, TX | APRIL 20-23

For the third year, the Austin Film Society (AFS) is partnering with Premiers Plans, a film festival and organization located in the Loire Valley capital of Angers France, to create a cross-cultural dialogue about independent film. AFS and Premiers Plans will co-present four new award-winning French language first films by emerging European filmmakers: In Bed with Victoria by Justine Triet, Raging Rose by Julia Kowalski, Uncompleted Song by Orelsan and Christophe Hoffenstein, and Paris la Blanche by Lidia Terki.

The New French Cinema Week is supported by the Cultural Service of the French Embassy in Houston.

READ MORE
DALLAS, TX | APRIL 30 | 2:00PM

Ultra-seeing is an exploration of experimental cinema from the perspective of synesthesia, visual music, and visualization of music.
The one hour-long session will bring together major works from the rich collection of Light Cone, a French organization dedicated to the diffusion and conservation of experimental cinema, and contemporary productions from local and international artists.

This program is supported by the Cultural Service of the French Embassy in Houston.

READ MORE