MAY 2017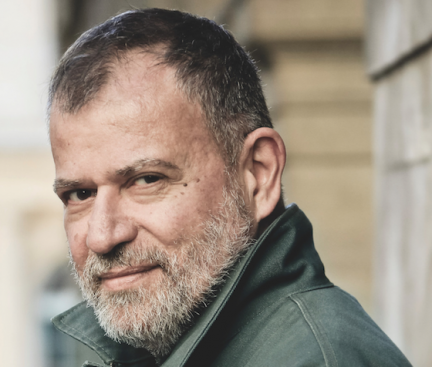 May 1, 2017 - June 5, 2017
San Francisco, CA.
Martin Winckler is in San Francisco for five weeks as the inaugural participant of "A Room with a View", a new writer's residency program launched by the Cultural Services of the French Embassy in partnership with the Institut Français.
READ MORE
VISUAL ARTS
May 7, 2017
Davis, CA.

Artist Marc Johnson and Aebhric Coleman, Director of the Kramlich Collection, discuss the making of YúYú, collaborating with Chinese beekeepers, bees from an anthropological perspective and the film's aesthetic influences, in relationship to social change and new theories on nature and culture. Introduced by guest curator Betti-Sue Hertz.

READ MORE
Ongoing - May 13, 2017
San Francisco, CA.

FraenkelLAB is pleased to present "Identité", the first US exhibition of the French artist Stéphanie Solinas. In her work, Stéphanie Solinas explores the concept of identity as an area of contact between the self and the Other, the thinking process involved with the act of "seeing"

READ MORE
Ongoing - May 29, 2017
San Francisco, CA.

The first major exhibition to explore the profound inspiration Richard Diebenkorn found in the work of Henri Matisse.

READ MORE
SPECIAL EVENT!
May 11, 2017
San Francisco, CA.

Mark your calendars! On Thursday, May 11, enjoy a tour of April in Paris, luxury leathercraft San Francisco boutique, while indulging in French gourmet delights by Arsicault Bakery​ - crowned best new bakery in America by Bon Appétit Magazine!​ - and restaurant Chapeau!

READ MORE
PERFORMING ARTS
Ongoing - May 21, 2017
San Francisco, CA.

Following his stunning worldwide success with The Suit, which played to standing ovations and sold-out houses at A.C.T. In 2014, legendary director Peter Brook is back.

READ MORE
May 5, 2017
San Francisco, CA.


"A delight! Incredibly powerful!"

READ MORE
MUSIC
May 26, 2017
Berkeley, CA.

Performing his latest albums, don't miss a chance to see the spectacular Jean-Michel Jarre in concert!

READ MORE
CINEMA
Application deadline: May 26, 2017


Tournées Film Festival is a program which aims to bring French cinema to American college and university campuses.

READ MORE
Portland, OR.

Inspiring environmental documentary "Tomorrow" screens in Portland at the Living Room Theater, every day at 12:15pm and 6:50pm! Don't miss out!

READ MORE
IN THIS ISSUE
Stay tuned!
Follow us on social media!