MARS 2016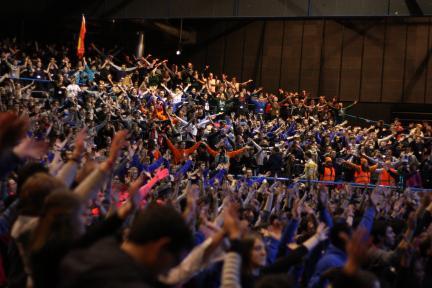 This event is sold out
2000 students of French from New England middle and high schools will gather at the PCTA (Providence Career Technical Academy) in Providence, RI. This is the largest gathering of French students in New England !
The goal of the event is to expand students' horizons, encourage them to be curious about other cultures and promote values of diversity, peace and innovation through French.
We are very pleased to annouce that this event will be attended by the Mayor of Providence Jorge Elorza, the French Consul Valéry Freland, the Québec Delegate in Boston Marie-Claude Francoeur, the Haitian Consul Farah Chatelier, a representative of the Canadian Consulate General, the CEO of the Centre de la Francophonie des Amériques à Québec Denis Desgagné, and the Executive Director of the RI Film & Television Office Steven Feinberg.
READ MORE

Deadline: March 31st
At Castanet-Tolosan (Haute-Garonne), the Val Player (Association of Sicoval libraries) invites you to participate in a postal art competition, open to all ages.
Instructions: mail art is as simple as a letter in the mail!
READ MORE
RESSOURCES PÉDAGOGIQUES
Le dernier Focus (sélection de ressources documentaires d'actualité) proposé par le Centre de ressources et d'ingénierie documentaire (CRID) du CIEP s'adresse aux candidats qui souhaitent s'entraîner pour passer les diplômes DELF-DALF, aux enseignants de FLE, aux formateurs DELF-DALF, ainsi qu'aux responsables des centres d'examen

EN SAVOIR PLUS
Francparler-oif.org, site pédagogique de l'OIF animé par la Fédération internationale des professeurs de français et à destination des professeurs de français, fait peau neuve : il est désormais consultable sur tout support (tablettes, téléphones intelligents...).

EN SAVOIR PLUS
Des ressources pédagogiques en lien avec l'histoire de la Première Guerre mondiale : c'est le nouveau thème proposé par "Enseigner le français avec TV5Monde".

EN SAVOIR PLUS
PROGRAM
A program of FACE Foundation in partnership with the French Embassy in the United States and the International Network for Public Schools, the FHLP is the first of its kind to directly address the needs of underserved French-speaking communities in public schools and community centers across the United States. The Program currently serves 535 students at elementary and high school levels, including students from schools in Maine and Massachusetts. If you want to support and learn more about the FHLP, click here.

READ MORE
IN THE NEWS
Culturethèque is free for the members of the French Cultural Center in Boston

The digital library and newsstand, an Institut Français initiative available to participating Alliances Françaises in the U.S., is undergoing some major improvements and upgrades. The site is featuring new offerings, including a brand new collection of 200 graphic novels, and a section highlighting African and Caribbean Fiction.

READ MORE
La réforme orthographique de 1990 proposée par l'Académie française vient tout juste d'être appliquée aux manuels scolaires. L'emploi de cette « nouvelle orthographe » n'est pas imposé, mais il est recommandé. 2400 mots vont donc changer dès la rentrée scolaire. Adieu l'accent circonflexe sur le «i» et le «u», « oignon » avec un «i» et « nénuphar » avec «ph»!

READ MORE