AVRIL 2017
'Le blé sera fort mal nourri, si mai ne voit sa FLEur et son épi''. Dicton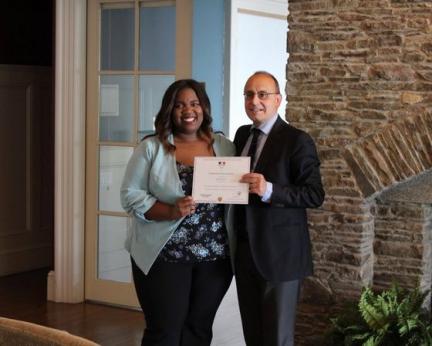 Date limite d'inscription : 30 Avril 2017 à 23h59 EST
Les Services Culturels du Consulat de France à Boston sont heureux de présenter la quatrième édition du "French Consulate in Boston Excellence Award." Ce prix est destiné à un étudiant qui a effectué un échange universitaire en France et a témoigné activement de son expérience, encourageant ses camarades à suivre son exemple.
CLICK HERE TO FIND OUT MORE AND NOMINATE A STUDENT
Apply online before May 26th, 2017
Applications are now open for universities & colleges to apply to host the Tournées French Film Festival for the year 2017-2018. Tournées Film Festival is a program of the FACE Foundation, in partnership with the Cultural Services of the French Embassy, which aims to bring French cinema to American college and university campuses. Tournées Festival participants choose a total of six films: 5 contemporary + 1 classic. The grant to support the screening of six films is $2,200.
CLICK HERE TO FIND OUT MORE AND APPLY
FORMATION
Vendredi 12 Mai de 9h à 16h
French Cultural Center, 53 Marlborough St, Boston


DEVELOPPER LES COMPETENCES ORALES avec Pierre Yves Roux du CIEP

Destinée aux enseignants de FLE tous niveaux confondus, cette formation gratuite se propose de doter les enseignants des compétences et des outils pouvant les aider à développer la pratique orale de la langue durant leurs cours.
To register, please click here

READ MORE
CONCOURS UNIVERSITAIRE
Organisé par le Club Francophone du MIT, en partenariat avec le Consulat Général de France à Boston.

Le concours international « Ma thèse en 180 secondes » lance sa première édition aux Etats-Unis le samedi 13 mai, au MIT. MT180 s'adresse aux étudiants inscrits en doctorat dans une université américaine, qui doivent présenter leur sujet de recherche en 3 minutes, en français et en termes simples, à un auditoire non-spécialiste.
Date limite d'inscription : 30 avril.

READ MORE
FOR YOUR CLASS AND YOUR STUDENTS
FREE Pedagogical Material for Public School Teachers

Schoenhof's Foreign Books, the oldest supplier of French books in the US, is pleased to participate in our spring French language celebration by offering pedagogical material. 15 packages of different content have been prepared in recognition of the quality and the dedication of the public schools teachers of French in the New England area.

In order to receive these books, please send an email here with a 10 lines paragraph telling us why you love teaching French.
Enseignants, parents, élèves, vous rêvez de découvrir la France tout en renforçant vos compétences linguistiques ? Ce site regroupe tout ce que vous avez besoin de savoir sur l'apprentissage du français en France.

Bon voyage ...

READ MORE
A nationwide French film festival and educational program

The Alliance Française network of French-speaking cultural centers presents the 4th annual Festinema Junior, a national French film festival and educational outreach program for children and adolescents. This unique opportunity offers students of all ages and socioeconomic status to expand their international horizons through cinema and culture.

From April 27 to April 29, kids and teens can enjoy 4 French movies for FREE at the French Cultural Center in Boston!
Welcome, Adama, Neige et les arbres magiques, and Ernest et Célestine will be screened In French with subtitles.
For more information and for school group registration, please click HERE.

READ MORE
Une plateforme gratuite pour les enseignants de FLE

Le projet Bonjour du Monde permettra aux professeurs de proposer à leurs élèves des exercices de français gratuits en ligne. Grâce à un blog personnalisé, ils auront accès à une base de données FLE communautaire, comprenant plusieurs centaines d'exercices de français gratuits.
Pour voir une vidéo de présentation, cliquez ici.

READ MORE
IN THE NEWS
Use this video in your classroom, with your director, principal ...

Right now, French is the third most demanded language by U.S. employers, and we estimate that by 2050, 700 million people will speak French.
9 students from the Boston area have agreed to share with us why they learned French and why they find it useful in their day to day life.

READ MORE
MaFLA is delighted to welcome you to its 50th annual conference in a new location!


Please submit a proposal by April 28, 2017 in order to present at the MaFLA conference. CLICK HERE for more information.

The 2017 Conference Theme is: Languages Transform Individuals Into Communities.

READ MORE
Maine has long been the home of a large French-speaking population, the "Francos".
But with the arrival of a new wave of African immigrants, French Canadian natives, once ashamed of their heritage, are connecting with the newcomers over their shared language.

READ MORE