OCTOBRE 2016
''Le vent fera craquer les branches, la brume viendra dans sa robe blanche, y aura des feuilles partout, couchées sur les cailloux, octobre tiendra sa revanche...'' Francis Cabrel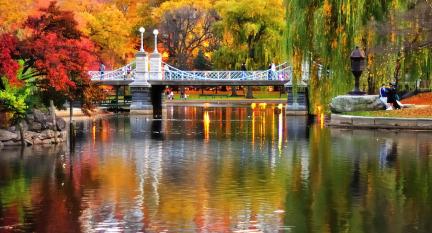 Une nouvelle saison et des nouveaux projets, à nous de jouer !
AT THE CONSULATE
Bienvenue to Michaël Vallée in our team!

Michaël Vallée joined the cultural service team in September.

Michaël is in charge of questions related to Higher Education and represents Campus France USA, a service of the French Embassy to promote study in France to students and institutions in the United States. Michael will be working all over New England and developing student exchange programs with France among many other things.
If you have any questions, please feel free to contact him.
TEACHER TRAINING
Formation Pédagogique avec le CIEP - 7 Novembre

French Cultural Center
53 Marborough Street, Boston
November 7th, from 8:30am to 3:30pm (6hr)

La différenciation pédagogique, faire cours avec des niveaux hétérogènes, avec Pierre Yves Roux, responsable de l'unité expertise et projets (CIEP)

Problématique : évoquer l'hétérogénéité d'un groupe classe relève du lieu commun et les facteurs d'hétérogénéité sont nombreux , il convient d'en tenir compte dans ses pratiques de classe, notamment en mettant en œuvre des stratégies relevant de la différenciation pédagogique.
Contenu : Pourquoi différencier ? A partir de quoi différencier ? Que peut-on différencier ? Comment différencier ? Comment gérer sa classe ? Quelles sont les conditions d'une différenciation efficace ?
Modalités : présentations en plénières et travaux et réflexions en sous-groupes et ateliers seront alternés.

Bibliographie et sitographie sélectives :
Pédagogie différenciée, Aider tous les élèves, Miser sur les différences, Pedagogie differenciee.pdf, La_pedagogie_differenciee_01.pdf,
La pédagogie différenciée avec de jeunes adolescents.

Pour vous inscrire avant le 31 octobre, merci de cliquer ici

Cette formation est sponsorisée par les Services Culturels de l'Ambassade de France. Nous remercions le French Cultural Center pour son accueil.

New England Foreign Language Conventions

Serez-vous des nôtres cet automne ?

Be sure to attend these upcoming teachers conferences in the Boston area to enrich your knowledge of second language aquisition!

October 28-29: NHWALT (New Hampshire)

November 18-20: ACTFL, National Convention in Boston
FOR YOUR CLASS AND YOUR STUDENTS
Bring your students to a concert with Eric Vincent

Every year, the talented Eric Vincent tours New England schools.

Thursday October 13, at 9:30am: Wachusett Regional High School, Holden MA. Contact : Madame Mary Sanfaçon
Friday October 14, at 11:20am: Belmont Hill School, Belmont, MA, Contact : Madame Nancy Montanaro
Tuesday October 18, at 9:30am: Oxford Hills Comprehensive High School, South Paris, ME. Contact Madame Anne Smith

Pour info : Eric Vincent
You will never get lost again with Immersion France... ever!

IMMERSION FRANCE is a multilingual free app to help you decide which tailor-made stay to choose in France. It features a directory listing the best offers of language centers in France and an interactive map to discover the French regions. Find your next vacation with a wide selection of best quality offers to make your stay in France a unique experience!

EN SAVOIR PLUS
Just try it!

Un test multilingue rapide, des résultats immédiats : Ev@lang tient ses promesses et vous facilite la tâche d'évaluation des compétences linguistiques de vos élèves. Ev@lang propose des tests en ligne conçus avec l'expertise du CIEP et conformes aux normes européennes. Essayez-le pour voir !

EN SAVOIR PLUS
Interested in learning the history and uses of a French word but don't know where to find trustworthy information? France Terme has got the solution for you! Look up any French word and discover its history!

CONSULTER LE SITE
Vous enseignez le français sur objectifs spécifiques? Vous avez du mal à trouver des ressources pédagogiques adaptées à vos besoins? Le Centre de Linguistique Appliquée de l'Université de Franche Comté a mis en ligne toutes les ressources nécessaires pour enseigner le FOS!

CONSULTER LE SITE
IN THE NEWS
Rhode Island signed the Seal of Biliteracy

In June 2016, Rhode Island Governor Raimondo signed the Seal of Biliteracy to stimulate the teaching of a second language in the state.

The Seal of Biliteracy is an award given by a school, school district or county office of education in recognition of students who have studied and attained proficiency in two or more languages by high school graduation. The Seal of Biliteracy takes the form of a seal that appears on the transcript or diploma of the graduating senior and is a statement of accomplishment for future employers and for college admissions. In addition to the Seal of Biliteracy that marks attainment of high level mastery or two or more languages, schools and districts are also instituting Bilingual Pathway Awards, recognizing significant steps towards developing biliteracy along a student's trajectory from preschool into high school.

If you'd like to know more about implementing a Seal of Bileteracy in your state, click here

By studying brain electrical activity of volunteers, researchers found that language acquisition enhances brain plasticity and capacity for learning. In particular, they note that early language learning plays a significant role in the rapid formation of memory circuits for coding new information.

CONSULTER L'INFOGRAPHIE
STAY TUNED
New: A National K-12 French Education Newsletter just for You!

Inscrivez-vous au nouveau bulletin des Services Culturels de l'Ambassade de France.


A new newsletter from the French Embassy in the U.S.! Just 1 email every 2 months, gives you an overview of French education across the United States. Events, advocacy, honorable mentions, and educational resources for your K-12 French classroom.

This newsletter serves as a complement to your local educational newsletter, providing useful information for French language educators, school leaders, and other parties in the U.S. To register, click here.
Oh nooo, I missed my favorite bulletin ...

Don't forget to check our past ''bulletins" on this link! You will find other relevant information for your classes.